I've been baking since I was about 5 years old. My grandmother was a wonderful baker and everything she made was amazing. I can still remember the aromas of her kitchen, fresh coffee brewing, sweet butter, that tantalizing bakery fragrance – it still makes my mouth water.
Today, I'm sharing an old family favorite recipe – Swedish Apple Pie. I don't know why it is called Swedish Apple Pie. It really isn't anything like a traditional pie. This is one of the easiest recipes you will ever try, and it doesn't require any special ingredients or tools. What makes this particular recipe different from many that you will find online is that it does not have any butter or oil.
You do need a 9-inch baking pan, but, you do not need a rolling pin. It comes together in
minutes and you will be enjoying this deliciousness in about half an hour.
I have always made this pie with regular all-purpose flour, but I decided to try it with gluten free all-purpose flour so I could enjoy it, too. (If you didn't know, I am gluten intolerant.) I make regular goodies for our guests all the time, but, sometimes, I treat myself to something special.
You simply combine all the dry ingredients in a large bowl. Add chopped nuts and chopped apple. In a small bowl, combine the wet ingredients, then, add them to the large bowl and mix. Spray the pie plate with nonstick spray, empty your large bowl into the pie plate and press so it is evenly distributed. Bake and eat. It really is best served warm with a little whipped cream or ice cream. Since the recipe doesn't have any butter or oil, you can allow yourself the indulgence of that cream on top!
You can find the recipe below. Let me know if you try it. I hope you love it.
Hope to see you soon,
Love,
Susan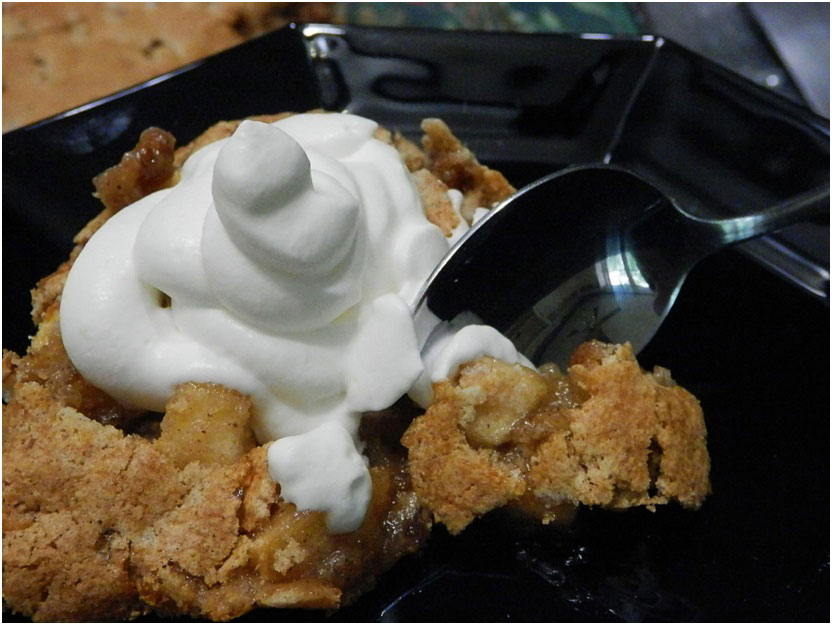 Swedish Apple Pie
Ingredients:
½ cup gluten free all-purpose flour (or regular flour)
½ cup sugar
2 tsp baking powder
¼ tsp cinnamon
Dash salt
½ cup chopped pecans
1 ½ cups diced apples
1 egg, beaten
1 tsp vanilla
Preheat oven to 350 degrees. Grease 9" pie plate.
Combine dry ingredients.
Add pecans and apples.
Mix egg with vanilla and add to apple mixture.
Spread into prepared pan.
Bake at 350 degrees for 25 minutes.
Top with whipped cream or ice cream, if desired.