It may be winter, but, here in SouthWest Georgia, the sun is almost always shining and winter is camellia season. February is peak blooming month for the "roses of winter" and nearby Massee Lane Gardens, home of the American Camellia Society, has a very special February events calendar that truly has something for everyone. Before I highlight all the garden events, there are a couple of local Americus happenings to share:
The Glenn Miller Orchestra brings its unique jazz band sound to Americus on Saturday, January 14, 2023 at 7:00 p.m. at the Rylander Theater.
Tickets are $31 and are on sale now. For tickets, visit www.rylander.org or call 229-931-0001.
Dash Duo, Yamaha Artists Mary Elizabeth Bowden and David Dash, perform n virtuoso concerts around the world and are bringing their talent to Americus as part of the GSW Chamber Concert Series. Tuesday, January 24, 2023 at 7:30 p.m. at Jackson Performance Hall. Ticket prices are $12. For more information, call 229-931-2204.
The Women's Wine and Chocolate Walk is a very popular Americus event which takes place in our beautiful historic downtown shopping district. It is scheduled for Saturday, February 25, 2023 from 1:00 p.m. to 5:00 p.m and admission is $35. Get your tickets here starting January 1, 2023.
Now onto the events at the gardens! Massee Lane Gardens, will be celebrating their 78th Anniversary throughout the entire month of February 2023. Festivities kick off with Free Admission on Saturday, February 2 from 10:00 a.m. – 4:30 p.m.
BOTANICAL ART GALLERY:
Enjoy the beautiful botanical artwork of Atlanta, GA artist, Linda Fraser. Mrs. Fraser is a botanical illustrator of native plants in the southeastern United States. Over eighty-five of her watercolor and colored pencil paintings travel as the exhibit, A Walk Through the Seasons. The paintings are hung in chronological order, showing plants found blooming side by side in specific environments. Although her paintings can be a means of identification, they are also enjoyed simply for the beauty of the flowers and the fun of finding the colorful insects and other critters hiding or chewing on the plants. Mrs. Fraser will also give a presentation on Southeastern Native Plants, "Growing Wild Things in a Polite Neighborhood" and discusses the plants and insects featured in her artwork.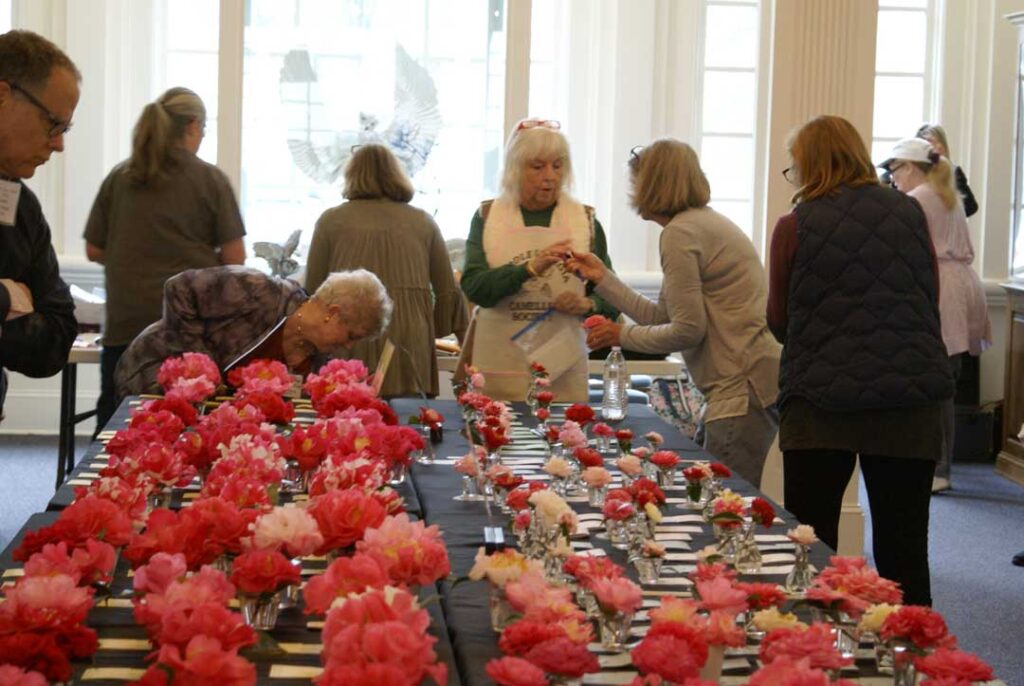 Saturday, February 18, 2023 There will be 2 workshops:
CAMELLIA WAXING at 10:00 a.m. FREE with garden admission and advance registration is required.
Guests will enjoy a Camellia Waxing demonstration and workshop hosted by Jonanne Beckman and Jo Ann Dankel-Dobb. Many camellia lovers will wax their favorite camellias right before a freeze, or to prepare a large number of blooms for festive decorations. Dipping camellias in a wax and mineral oil mixture preserves the blooms for days (and sometimes weeks). It gives camellias from the garden a sheen that makes them look like perfect porcelain sculptures. Waxed blooms do not need a vase or water. They can be displayed on a plate, elegant bowl, or lined up on a table top.
ONE-STROKE PAINTING CLASS at 1:00 p.m. Registration Fee $40 and advance registration is required, which includes class supplies and garden admission. Call (877) 422-6355 to make reservations and advance payment or sign up here.
A camellia painting class using the "One Stroke" oil painting technique will be by artist Shirley Rainwater and Mary Parks of Lizella, Georgia. Shirley Rainwater holds a Level II Art Instruction Certification from Dewberry University in Orlando, Florida. She was taught by Donna Dewberry, who invented the one-stroke technique. Participants will complete an 11 x 14 canvas painting.
MIDDLE GEORGIA CAMELLIA SOCIETY & FLINT ENERGIES CAMELLIA SHOW
Saturday Feb. 25, 2023 12:00 p.m.- 4:30 p.m. open for public viewing
Sunday Feb 26, 2023 1:00 p.m.- 4:00 p.m. open for public viewing
This is your opportunity to see the multitude of camellia beauties! Middle Georgia Camellia Society will showcase hundreds of camellia blooms, showing the diversity of sizes, shapes and colors that make camellias such a prized addition to any garden.
Show Contact: Tommy Martin, [email protected]
(478) 235-0096
FREE TEA TASTINGS
Every Monday in February.
Did you know that tea is made from the Camellia plant? Camellia sinensis to be exact. To celebrate the contributions of the tea plant and its health benefits, complimentary tea will be served each Monday in February. Biron teas use traditional Western, Chinese, and Ayurvedic herbs. The teas are 100 percent natural and specially blended for taste and aroma, giving them exceptional flavor. Andi Biron earned a master's degree in Nutrition Science, and has incorporated the insight and knowledge of many different cultures to select the best healing herbs for each blend. Andi will discuss the health benefits of tea and explain how her teas are designed to offer holistic experiences.
BOEHM PORCELAIN COLLECTION – Free with garden admission
Massee Lane has the largest public display of Boehm porcelains in the world. Edward Marshall Boehm (1913 – January 29, 1969) was a self-taught American sculptor known for his porcelain figures of birds and other wildlife. In 1972, Mrs. Williams Parks Stevens of Macon, Georgia gifted the Boehm porcelain collection and the building in which it is housed.
Massee Lane Gardens Hours and Admission
Open Tuesday through Saturday from 10:00 a.m. until 4:30 p.m. and Sundays from 1:00 p.m. until 4:30 p.m. Mondays 10:00 a.m. until 4:30 p.m. in February.
Admission is $10 for adults, $8 for seniors, and free for children age 12 and under and American Camellia Society members.
100 Massee Lane, Fort Valley, GA 31030
478-967-2358
We would suggest you book a room Friday, February 24, Saturday, February 25, and Sunday, February 26 and experience the Women's Wine and Chocolate Walk on Saturday, and the Camellia show on Sunday.
So, we hope we've given you enough information to plan your trip to Americus in January or February. We would love to see you in the New Year.
Happy New Year.
Love,
Kim and Susan